Since the end of the #EndSARS protests, there have been no changes in the policing system of the country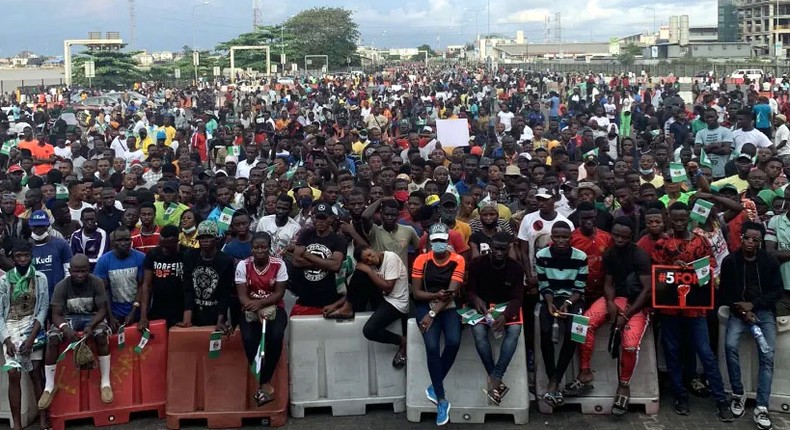 Prior to the controversial shooting incident, Nigerian youths had been out on the streets across the country, calling for the disbandment of the Special Anti Robbery Squad (SARS), a police unit that was notorious for human rights violations. Following the youths' persistent agitations, SARS was eventually scrapped.
But what appeared to be a win for the youths over rogue officers, turned out to be a momentary, pyrrhic victory for many.
One year after the protests, many questions surrounding the shooting and the alleged killing of peaceful protesters by soldiers in Lagos, remain unanswered.
Sadly, the protests and the scrapping of the infamous police unit are yet to lead to any significant improvements in the attitude and overall conduct of police operatives towards civilians.
Views of Nigerians on impact of the protests
Days after the protesting youths left the streets and returned home, Nigerians waited with bated breath to see if their police officers would turn a new leaf.
Indiscriminate arrests, profiling and extortion of young Nigerians seemed to disappear temporarily from social and mainstream media coverage.
A year after, however, the bad eggs in the Police Force are believed to have thrown caution to the wind, as conversations about officers' misconduct are again making headlines. Nigerian police officers (Guardian)
Some young Nigerians who spoke to Pulse on their observations about police officers' conduct since the end of the #EndSARS campaign, believe the protests had some impact on the conduct of police officers.
The youths who craved anonymity for this story, maintained that to an extent, young Nigerians are now free to dress the way they want without being profiled as fraudsters.
"The truth is that from that time till now, the police force has been calm in their attitude towards civilians. We've not seen so much police brutality and harassment on the road. I think the #EndSARS protest has impacted more on the police force," one of the youths said.
Another said, "I think there's been a drastic change in the police force. A lot of them are no more molesting people, unlike last year, when they see people passing, maybe you dress anyhow, they will stop you and try to force you into their vehicle.